PALADIN™ is an IP65 rated strobe wash blinder luminaire with motorized zoom. Featuring (24) high power 40W 4-in-1 RGBW LEDs, 6° to 32° motorized zoom, manual tilt adjustment, pixel zone control, 64 color presets and 15 unique color macros, electronic strobe, 16-bit dimming and variable dimming curve modes, DMX and RDM (Remote Device Management) protocol support, IP rated 5pin DMX and powerCON TRUE1 in/out connections, (4) button LCD control display panel, and a multi-voltage universal auto switching power supply (100-240v).
The Freedom Par Hex-4 is the most colorful model in the next generation of the Freedom Par family. It has four 10-watt RGBAW+UV LEDs for that extra punch and the special effects that white and UV add to color mixing. The Freedom Par Hex-4 has a special limiter option for extending battery life so that when you use more than 4 colors you know you'll get a good long show!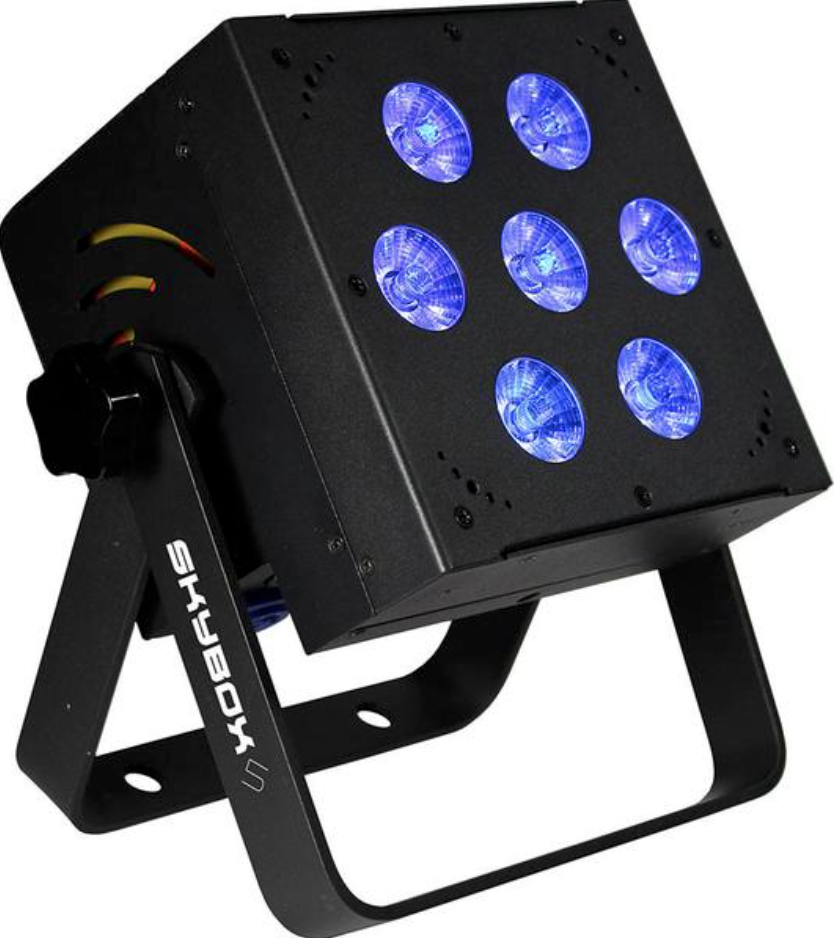 • 7x 15W RGBAW 5-in-1 LEDs
• Built-in AnyFi™ wireless DMX receiver (Skywire™ or W-DMX™)
• Intelion™ lithium-ion battery system
• 3 battery power modes
• IR remote control (sold separately)
• 5 user-selectable 32-bit dimming curves
• Variable electronic dimming & strobe
• Built-in color & chase macros via DMX
• Built-in automated programs via master/slave
• Built-in sound active programs
• RGBAW color mixing ability in standalone mode
• Rugged and well-built
• Super-quiet variable-speed internal fan cooling
• Dual mounting brackets for positioning flexibility
• Flicker-free constant-current 400hz LED driver
• 3-pin male input and 3-pin female output
• powerCON® compatible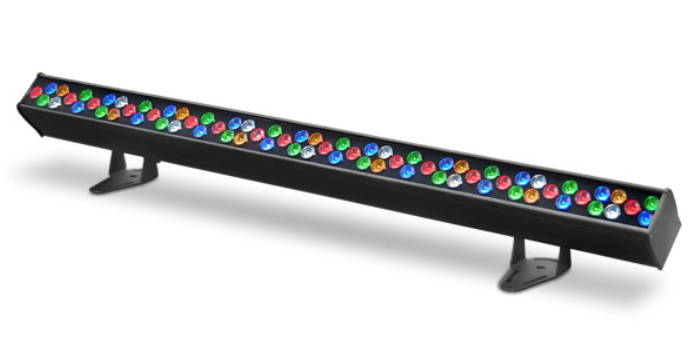 CHAUVET COLORADO BATTEN 72 TOUR
Colorado Batten 72 Tour is a class leading batten-style wash light powered by 72 calibrated red, green, blue, white and amber LEDs. The incorporation of white and amber LEDs affords superb color rendering and a vast palette from soft pastels to saturated hues. Its 16-bit dimming capability as well as five selectable dimming curves provide smooth fades and facilitates its incorporation into aging traditional rigs. Integrated trunnions accommodate clamps for vertical or horizontal hanging.
SlimPAR Pro H USB is a hex-color (RGBAW+UV) designed for any application that calls for a high-power, low-profile LED washlight with precise colors. Features include D-Fi USB compatibility for wireless control. SlimPAR Pro H USB has no moving parts and is flicker-free so it is ideal for quiet and on-camera applications. Generate a broad spectrum of colors and achieve natural-looking color temperatures with 6-in-1 LED technology.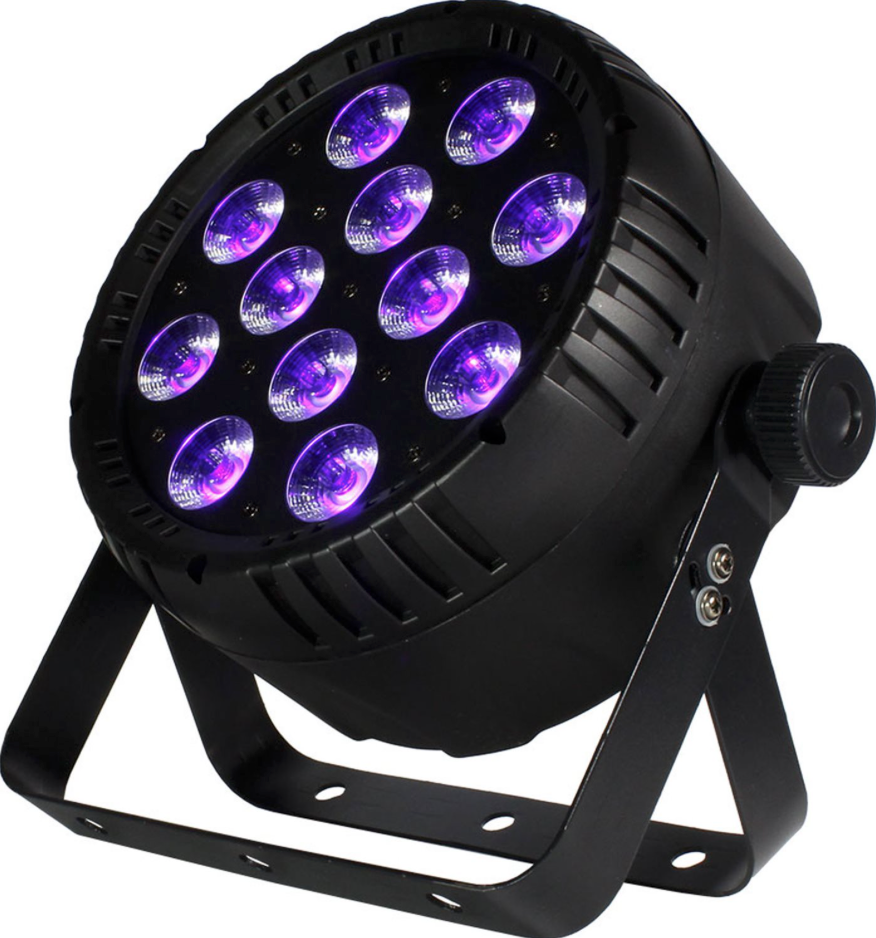 6-in-1 LED fixture, the LB PAR™ Hex! With 12x totally bright 15-watt RGBAW+UV 6-in-1 LEDs, LB PAR™ Hex fixtures give you the ability to create any rich, vibrant color you can possibly imagine, plus the option to throw some ultraviolet light into the mix to give off an eerie hue. The cherry on top? These fixtures are solidly built units with durable scratch resistant composite housing and dual mounting brackets for flexible positioning.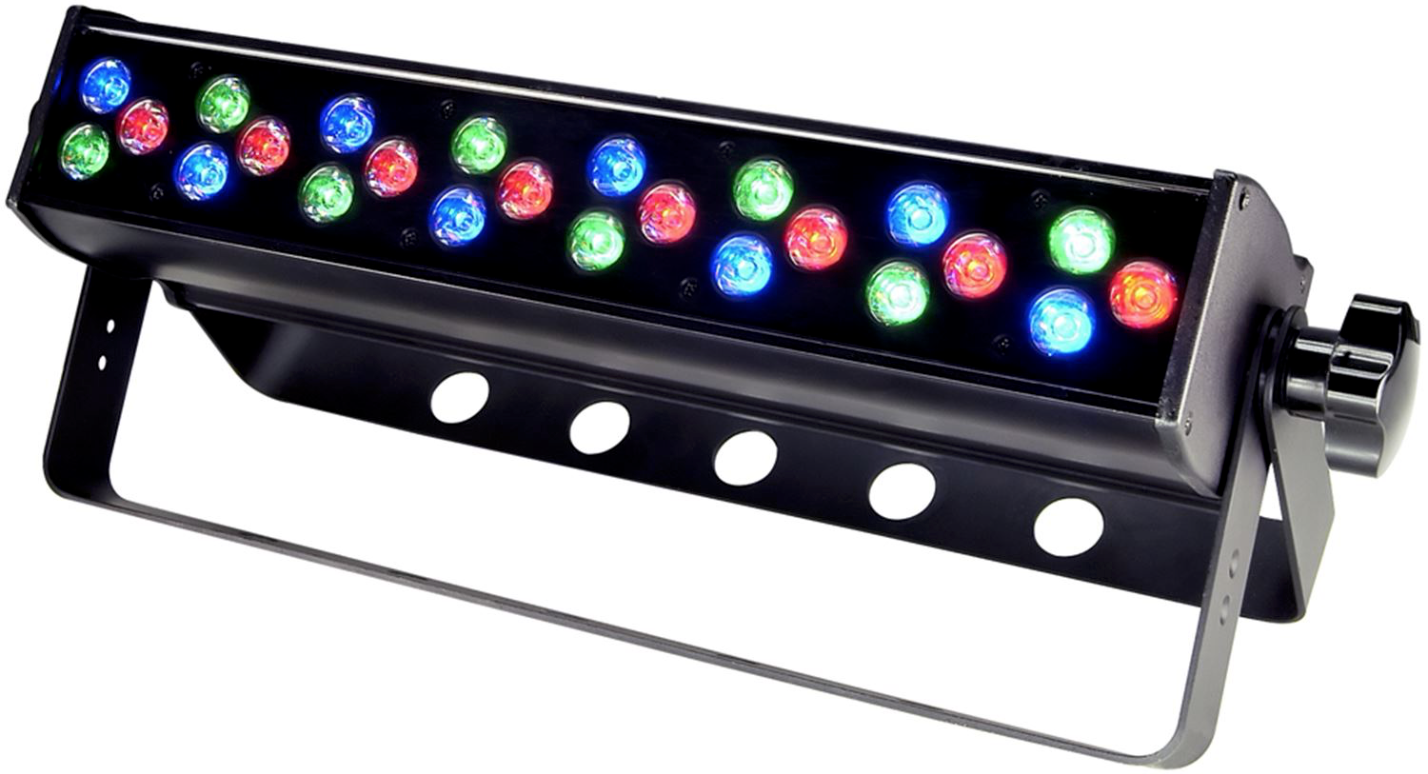 CHAUVET COLOR DASH BATTEN
The Chauvet COLORdash Batten is a linear LED wash light intended for architectural up lighting, stage and set lighting, DJs, bands and more. The COLORdash Batten is fitted with 24 high-powered LEDs capable of providing an array of color washes and textures without heat. There 3, 4, 10 and 12 channel DMX modes that include RGB control, dimming, strobe control and more. The double yoke bracket is designed for overhead or floor mounting, and multiple units may be chained together for larger applications.
ELATION CUPIX BLINDER WW4
The CUEPIX Blinder WW4™ features (4) long life 100W Warm White 3,200K COB LEDs, a 62° beam angle, RDM (Remote Device Management), individual control of each COB module, manual pan focus, variable and selectable dimming curves, strobe effects, flicker free operation for TV and Film, 3pin and 5pin DMX and powerCon in/out connections, LCD menu display with 4 button control panel, integrated yoke and side mounting brackets, and a multi-voltage universal auto switching power supply (100-250v).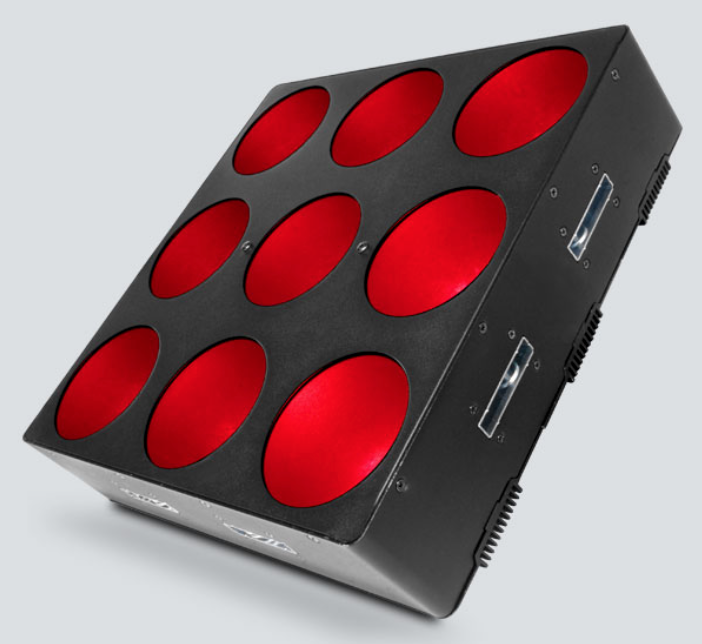 Core 3×3 combines a pixel-mapping effect and a powerful LED wash. Powered by nine RGB LEDs with chip-on-board (COB) technology, it utilizes a unique reflector cup to produce large pixels of light and create intriguing sweeping and chasing effects. You can easily combine multiple units using built-in coffin locks to construct an impressive array capable of large scale animations and chases.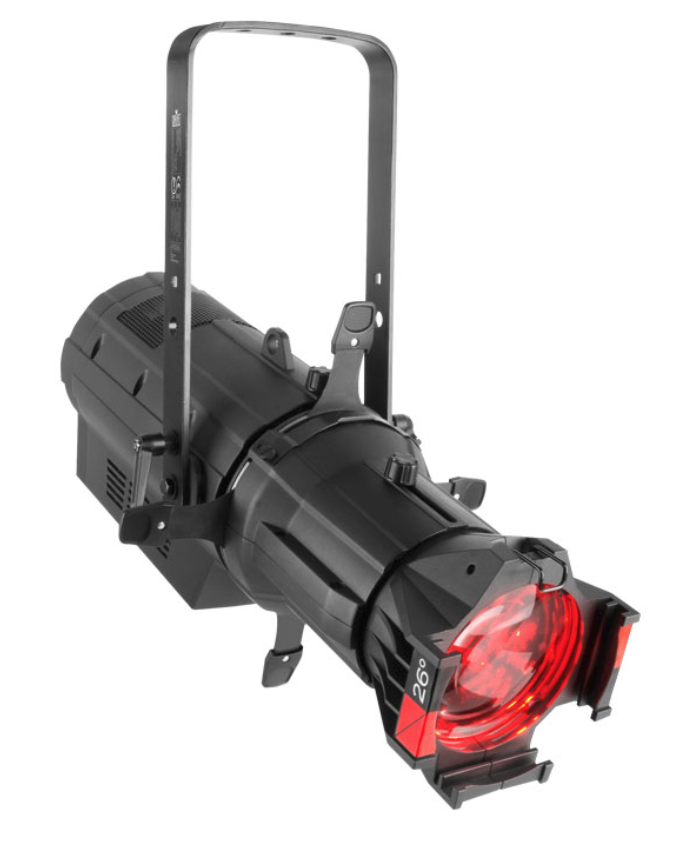 CHAUVET OVATION E910 LED LEKO
Ovation E-910FC is a high-performance ERS-style fixture with full RGBA-Lime color mixing and Color Temperature presets of 2800 to 6500 K that match the output of a tungsten source to perfection. Control options include full 16-bit dimming (per color and master), selectable PWM, RDM and onboard dimming curve selection. Also accessible is our Virtual Color Wheel which matches popular gel colors.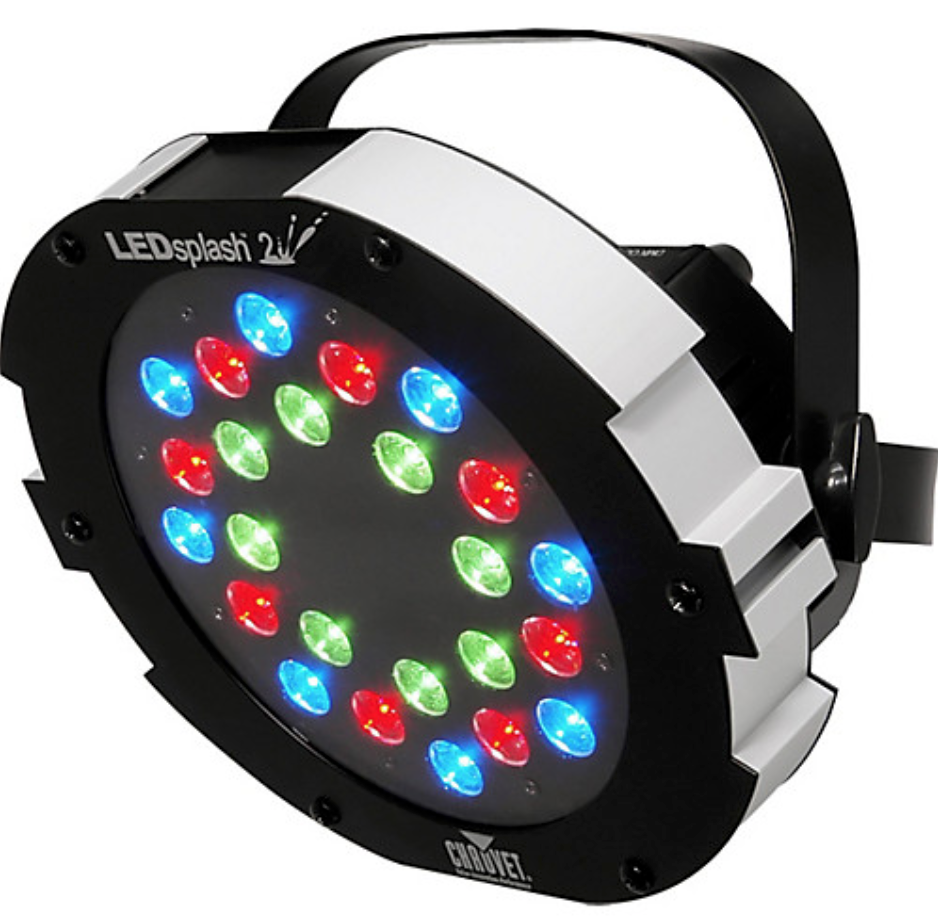 The Chauvet LEDsplash 2 color wash stage light can be used with Chauvet's LED Shadow, LED Shadow II, LED Techno Strobe. LED Techno Strobe RGB, or COLORsplash 200B fixures in standalone for more dynamic color displays, or on its own for highlighting the nuances of your architectural designs. It is a 6-channel, DMX-512-compliant fixture with blackout, dimmer, static, and strobe options as well as RGB mixing between the 8 red, 8 green, and 8 blue high-powered LEDs. It has built-in automated and sound activated programs via master/slave or DMX.
Accent lighting and pin spotting with battery-powered EZpin Pack 4 makes lighting centerpieces, cakes, and other event space focal-points easier than ever. EZpin Pack 4 bundles four EZpin fixtures and one IRC-6 remote into an easily transportable VIP gear bag; perfect for mobile entertainers and event producers. Each light has a magnetic base that affixes to most metal surfaces, eliminating the need for clamps. No metal surfaces? No problem! Easily attach the lights to drop ceiling supports or air wall frames using CHAUVET DJ Scissor Clip. EZpin Pack 4 includes variable white gels to achieve versatile lighting looks. You can even control the units remotely with the included IRC-6 remote.
The ADJ PinPoint Go WW Plus is battery powered pinspot powered by a 3W warm white LED (2700K). It includes a magnet and X-CLIP for attaching to metal, 4 color gels and a frost filter to expand the beam angle.